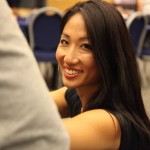 Revive Touch was created by Liza Lim in August 2011' inspired by the unlimited potential to help people in every field. She wanted to pursue her truest desires of helping people and bringing communities together in a healthy capacity. She has received her training in massage with world- renowned educator' Seymour Koblin' creator of Zen Touch Massage. With more than ten years experience in the health field' Liza has extensive experience from working with people in the athletic field to people with depression. She was the Director of Healing Clinic for Shakti Rising' a holistic transformational program catered to help young women turn their lives around and recover from abuse. She has had thriving successes in healing clinics' spas' entertainment industry' and private clientele. It all proved a great asset for her as she entered the poker circuit in 2008.
Liza fell in love with the role of creating a calming and soothing presence in the fast-paced poker environment. Even in this environment where the idea of healing can be diluted' Liza focuses her training and attention with each individual to assure they are receiving the best healing service. With a true love for traveling' she quickly built a retentive clientele base and professional relationships with poker players all over the world. She has been an active team member at world class tournaments including: World Series of Poker' World Poker Tour' European Poker Tour' Unibet Open' GSOP Tour' and is a highly respected and requested therapist by top players.
Her passion to bring the best to her clients is a reflection of her own desire to contribute to a healthier society. She continues to enhance her skills with continuing education as a bodyworker and is currently enrolled at Institute of Integrative Nutrition so that she can bring her passion for health full circle to help her clients in a holistic way. Her mission is to co-create a plan with her clients that will empower them on their journey for health ~ mind' body' and Spirit. Liza's work doesn't exist without the community around her' which is why she constantly strives to serve her community by giving back.