Whenever I look at a spa menu' I want to get the works.  Fancy names like Chocolate Fantasy' Tropical Super Scrub' and Rainfall Forest make my mouth drop.  But if I was given a choice between a spa treatment and massage' I am definitely choosing a massage.  Then there becomes another problem.  Well' let's not consider this a problem' but the issue…is what kind of massage/ bodywork am I going to get for myself?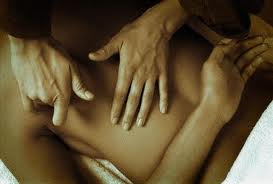 Here's the list I have to choose from:
Acupressure' Aromatherapy' Ayurvedic' Bowen Therapy' Cranio Sacral' Deep Tissue' Deep Transverse Friction' Lomi Lomi' Hot Stone' Indian Head' Myofascial Release' Lymphatic Drainage' Reflexology' Neuromuscular Therapy' Reiki' Proprioceptive Neuromuscular (PNF) Stretch' Remedial' Rolfing / Structural Integration' Seated' Shiatsu' Sports' Swedish' Thai' Traditional Chinese Medicine (TCM)' Tuina' Trager' and Trigger Point Therapy.
The list goes on even longer than this.  In school' I learned nineteen types of treatments and have helped and witnessed many people healing from acute and chronic pain.  To help with pain' something deeper' like neuromuscular therapy or deep tissue' might be helpful.  Myofascial Release can be extremely painful' but have long-term effects for the body's alignment.  Sometimes the muscles can release more tension when a softer approach' such as Swedish massage' is used.  One type of massage that helps one person might not be helpful for another body.  My body responds to many types of treatments but I know people who don't have the same experience as me.  Without knowing what each is' it's hard to spend a lot of money for any treatment.
The best way to figure out what you need is' first' to figure why you want a massage.  If you're lucky' you'll meet a massage therapist knowledgable in many of these treatments so they can suggest further treatment for your body's issues.  If you're not lucky' you can research the different types of bodywork listed above and find some testimonials online.
Living in pain is not necessary and you are not helpless.
As always' if you have any questions or comments' feel free to write to me at liza@revivetouch.com
Hope to hear from you.  Stay strong and healthy!